The Beginning:
After exploring Moab, Utah fairly frequently over the years, my brother wanted to try something new. In the spring of 2001, we began our first canyoneering trip in Southern Utah exploring the back country of Zion National Park and Escalante Grand Staircase National Monument.
Our first canyon was known as Egypt Slot Canyon aka: the 8 inch Canyon. What a rush! The canyon opened up a whole new world of adventure with its extremely narrow sections of pock-marked walls. We had to climb above the canyon at times because of the impassable narrow sections. At the end was a deep, ice cold section of the murkiest water I had ever seen. The adventure had only begun as we got lost looking for Spooky and Peek-a-boo (two more well known canyons) only to find an un-named canyon I still haven't been able to find again. Later we explored the lower half of the Subway which introduced me to a whole new definition of beauty and serenity.
(left - Subway, Zion National Park)
Since 2001, I have traveled to Southern Utah to explore many more canyons enjoying their beauty and magnificence. Even in Europe I couldn't help but explore areas like the Sächsische Schweiz, Germany to find adventure and secret treasures. Over the years I have gathered information and knowledge about canyoneering in Utah, Arizona, and Colorado. I would like to travel to all the places I have researched but that's to come, which has lead me to this website. I hope to create a mass information center for canyoneering enthusiast everywhere, and with your help I can.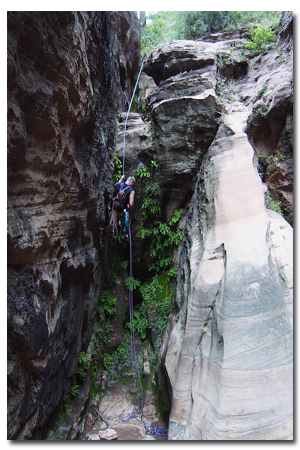 Experience:
Imagine a hike that is nine miles long, with 114° F surface heat and you only brought one liter of water. You're only 1/3 the way home, with nine rappels to go, a small swim, and – oh! - you have no flash light when the sun goes down. This was the situation I found myself in on my second trip back to Zion National Park. Ill prepared and under-informed, our fearless leader (my elder brother) simply got the route description mixed up with another one and forgot to bring the guide. What I thought to be a three mile hike and a few hours adventure turned into a 15 hour survival situation.
(right - Behunen, Zion National Park)
This taught me my first lesson – Prepare Yourself! You shouldn't rely solely on the information from a good friend or great brother. Become as informed as you can before you embark on such an adventure. Information can be found everywhere, so take advantage of your resources before you plan any trips.
I also highly recommend that you practice climbing and rope work. Advance your own techniques in scrambling, swimming, river running, and hiking before you think about canyoneering.
It isn't an adventure unless you bleed, but hell, you don't need to get hurt or worse!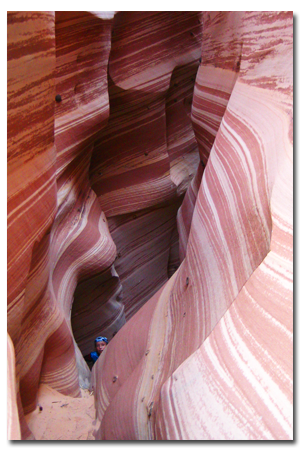 Respect:
Very few people enjoy the wonders of these canyons. Off the beaten path and often dangerous, many are deterred from these scenic spots. However, when we can take a step into Nature's cathedrals, we gain a respect for these incredible creations that awe and inspire the individual.
Impressed to share it with others, I hesitate only somewhat because of the crowds that are already drawn to these places. Please make your own effort to conserve what's there and heed regulations and guidelines in every place you explore.
(left - Zebra Canyon, Escalante)